Can I ride my bicycle on the sidewalk?
Bicycles are permitted to ride on sidewalks with certain exceptions and must yield the right-of-way to any pedestrian. Please read Santa Clarita Municipal Code 12.96 Bicycles on Sidewalks for full details.
---
Do I have to wear a helmet when I ride a bicycle?
California Vehicle Code 21212 requires persons under the age of 18 to wear a helmet.
---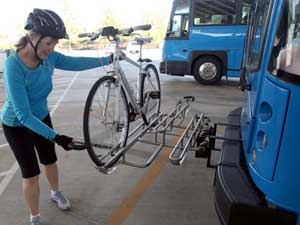 Are city buses equipped with bike racks?
Yes, our local buses are equipped with racks that can hold up to two bicycles at a time.  Passengers traveling aboard a commuter bus are able to stow their bicycles in the luggage compartment beneath the passenger seating area.
---
Can the driver help me load my bicycle?
No, the driver is not permitted to assist passengers load or remove a bicycle from the bike racks.  However, a driver will open and close the luggage compartment for those traveling aboard a commuter coach.
Get more information about bikes on buses.
---
Where are bike lockers located within the City?
Bike lockers are currently installed at Santa Clarita Metrolink, Newhall Metrolink, McBean Regional Transit Center, Via Princessa Metrolink, and City Hall.
---
How do I rent a bike locker?
You could call 661-295-6300 to ask for availability.  The City rents bike lockers Monday – Friday from 8:00 a.m. to 5:00 p.m.  at the Transit Maintenance Facility, 28250 Constellation Road, Santa Clarita, CA 91355. A one-time security deposit of $30 is required to rent a bike locker.  This deposit will be refunded upon return of your assigned key, provided that your bicycle locker is left in its original condition.
Bike lockers are located at all three Metrolink stations and the McBean Regional Transit Center.
---
Can I fit two bicycles in one locker?
Each bike locker is designed to store only one bicycle or one moped at a time.
---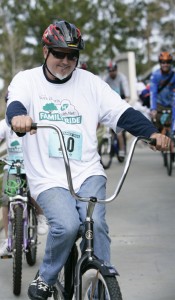 Does anyone else have access to the bike locker while it is rented?
Yes, the City of Santa Clarita will periodically inspect assigned bicycle lockers without notice for cleaning and/or to ensure lockers are being used for their intended purpose.
---
How long can I keep my locker?
You may keep your locker as long as you need it, however users are required to renew their user agreement on an annual basis.  You will be contacted via e-mail, phone, or US Mail in January to process your renewal.
---
How long does it take to get my security deposit back?
Please allow up to six weeks to receive a deposit refund.  Refunds are processed after the key has been returned and your locker has been inspected.
---